22" Natural Wave Wig Human Hair Lace Front Lace Wig
Hair Type: 100% Virgin Human Hair
Last for: one more year
Model Length: 22 "(Pictured)
Length:16"-26"available
Density: 150%
Hairline: pre-plucked
Straps: adjustable
Wig Comb: 4 combs inside
Circumference: 22.5 inches, standard medium<
Lace Type: Underectable Lace 
Cap Construction: Lace front (13x4)
Standard Shipping(free): 10-20 business days
Expedited Shipping: 3-5 business days
15-day Warranty: 
In the event that you have issues with your wig, we will give you a full refund within 15 days of purchase. Please ensure that the wig product is returned in origional package with lace uncut.
180-day Warranty Plus: 
At MildWild, customer satisfaction is our top priority. In addition to a 15-day standard warranty, MildWild is making it even more attractive by adding an extended warranty coverage of 180 days that costs only $29.99. It adds peace of mind and protection for a total of 180 days. For any quality problem, please exchange it for the same item within 180 days from the date of your order. You could contact us via email at warranty@mildwild.com.
High Quality HD Lace Human Hair Wigs
This is a glamorous, long style textured with beautiful body waves. As a gorgeous ready to wear style, this unit can be worn straight out of box with no adjustment.
The premium virgin human hair offers the amazing luster that gives a healthy hair look. Constructed with Swiss lace, it offers confidence in a realistic look. Our wig is 100% hand-tied on lace portion, with a beautiful lace front. Featuring ultimate cap construction design for comfort and lightweight wear.

You'll be sure to give everone major hair envy with the luxury body wave style and impeccable baby hairs transforming you into a natural goddess. Includes one natural wave human hair lace front wig, one wig cap, one gift box, one scented flower and an illustrated instruction guide to apply your wig.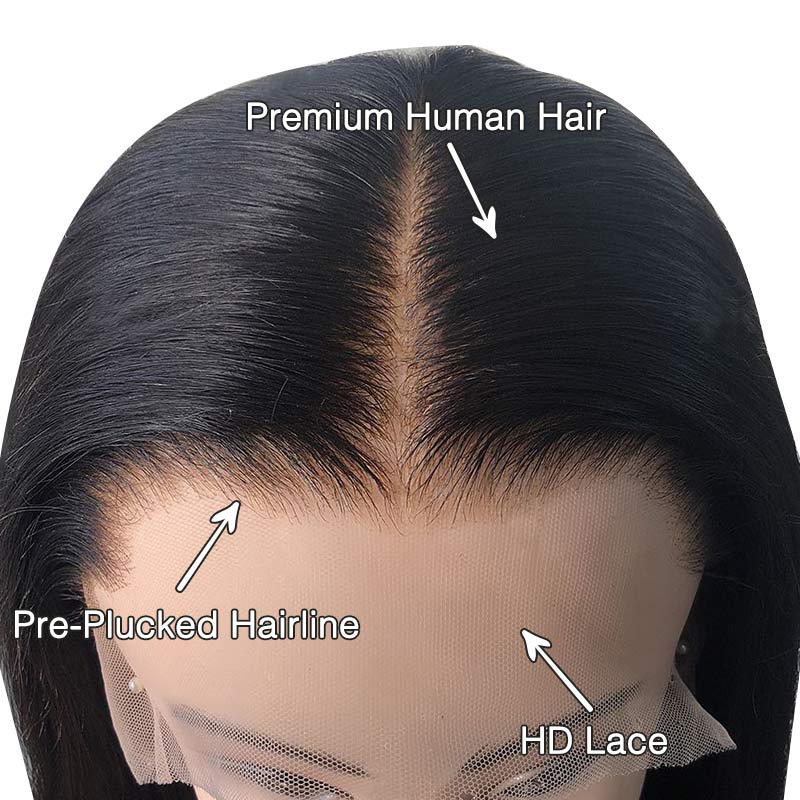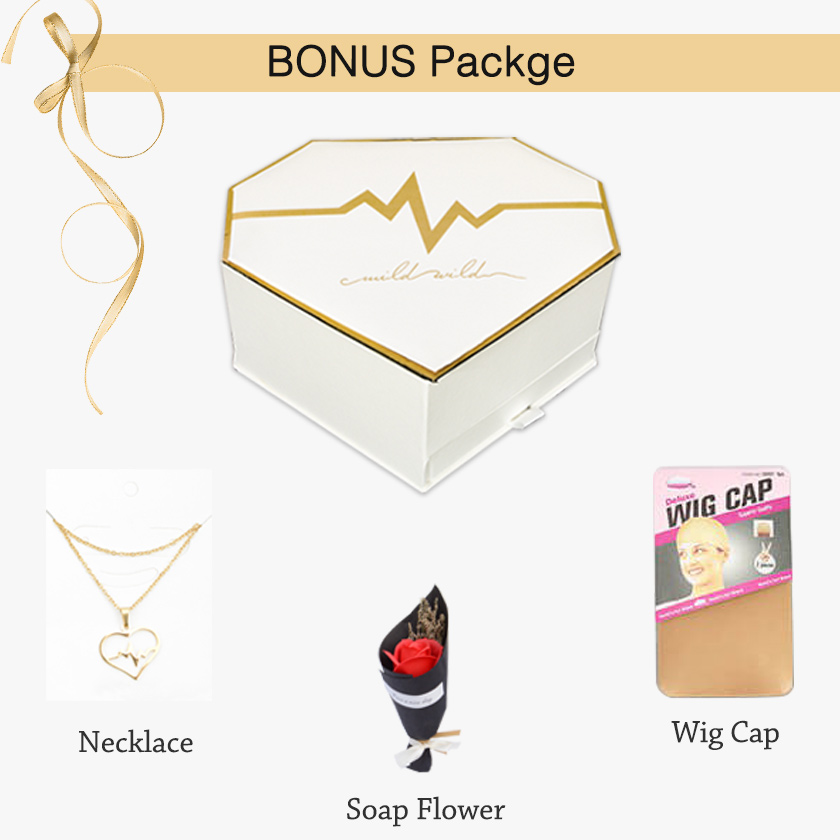 Q&A
You will receive a shipment email along with a tracking number to track the shipment of your package.
We accept all debit/credit cards & paypal. No need to have paypal account for order, you can pay with credit/debit card directly. Any payment problems, feel free to contact us at service@mildwild.com.
Yes you can! Our human hair wig is made with 100% virgin human hair, so you can style it as your own hair, you can also dye it if you like.
The lifespan of our human hair wig is longer than 12 months, depending on their usage and how they are cared for and maintained. 
Please care for it as if it was your own hair. When not in use, store your wig on a mannequin or wig stand to maintain its shape and wash only when necessary. You should not comb the hair when the hair is dry but only brush it with conditioner during washing. Applying silk serum can add moisture and glow to the hair.
Just like your own hair, slight shedding is normal for first-time wearing. Please feel rest assured that every wig from MildWild wig has been through strict testing to address such issue.
All stock in standard medium, 22.5 inches. With adjustable straps, it can fit the head of most people.
Orders shipped to countries out of the United States may be subject to duties and taxes. We declare a very lower value to help avoid taxes, but if it still happens, MildWild wig is NOT responsible for it. Please contact the local customs office to do clearance.
Tips to wash your synthetic wigs
Preparing to Wash Your Wig
(1)A basin or sink full of cold water
(2)Shampoo and conditioner specifically for synthetic wigs
(3)A wig comb
(4)A clean towel
(5)A wig stand
Step 1:
Work Out Tangles. Use a wig comb to gently work out any tangles.
Step 2:
Mix cool water with wig shampoo in a sink or basin (never use a washing machine). Soak your wig for five minutes, or a little longer depending on how soiled it is. Even if your wig is quite soiled, never rub, twist or wring it.
Step 3:
Rinse the synthetic hair wigs in mild water towards to the same direction.
Step 4:
Run your fingers through the hair gently in the mild conditioning water in a downward from top to end.
Step 5:
Lay flat the hair and leave it natural air dry.

Wig Storage
1. The best way is to put the wigs on a wig stand or mannequin head. Also, you can store it in a hair net or plastic zip-lock bag.
2. Please note that wigs should be placed in cool & dry air.
US
3-5 days usually for stand shipping.
2 days for expedited shipping.

Other areas:
7-9 days usually for stand shipping.

3-5 days for expedited shipping.
Strand Free shipping for New Arrivals Wigs
30 DAY GUARANTEE: If you are not completely thrilled with your wigs - We have a 30 day satisfaction guarantee. Please refer to our return policy here or at the bottom of the page for more details. Happy Shopping!