Human Hair Kinky Curly Headband Wig Natural Hair
Human Hair Kinky Curly Headband Wig - Customized

If beautiful tight ringlets are more your speed, then this unit has your name written all over it. This headband wig is perfect for woman want no fuss wear. Equipped with adjustable straps and four combs, this headband wig makes rocking curly hair a breeze. It doesn't require any leave out or glues, making it the ultimate protective style if that's your primary purpose for rocking a headband wig.
SPECIFICATIONS:
Hair Type: Human Hair
Hair Color: Natural Hair Color
Hair Density: 120%
Hair Length: 16 inches
Hair Texture: Silky
Size: One Size Fits Most
Headband Material: Black Cotton
Cap Construction: Headband Wig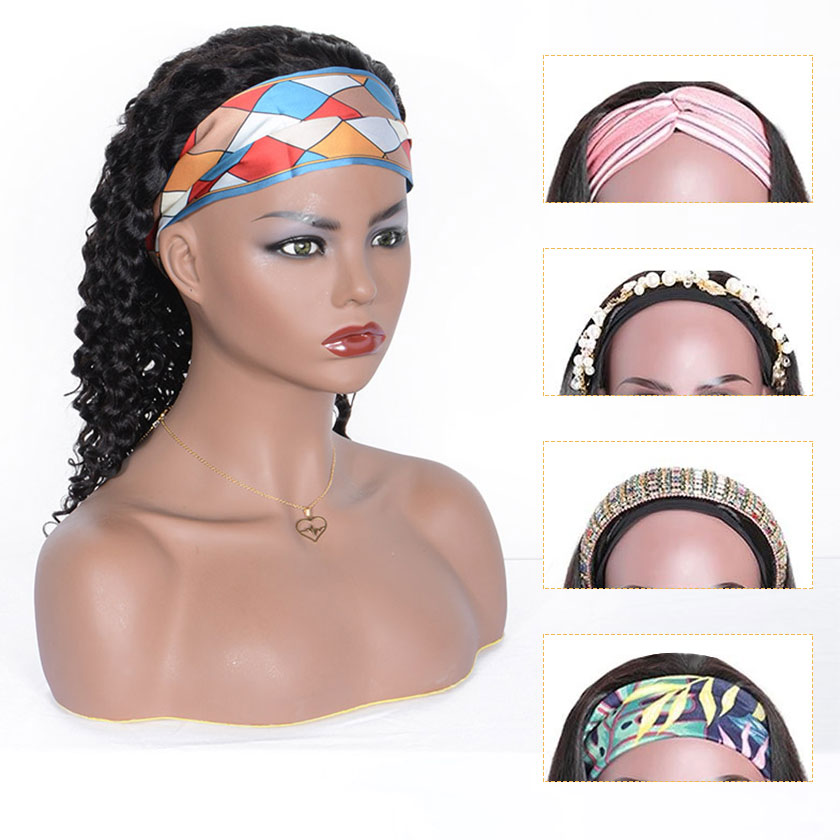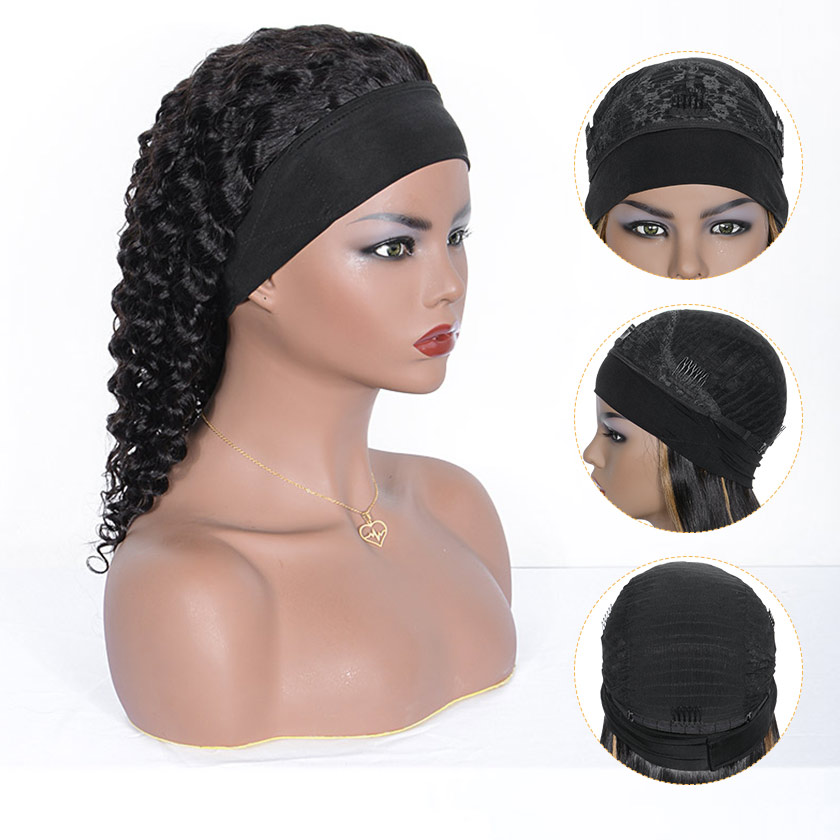 If you've ever struggled with getting the perfect washed and go, this curly headband wig is the cheat code. This wig mimics the classic curly girl wash 'n go hairstyle, which honestly can take hours to achieve. Chances are people won't even know it's a wig. For an elevated bob look, go ahead and dress it up with accessories, like statement earrings or silk scarves, to create a new and unique look!

Fuhsi Headband Wigs Signature
Fuhsi headband wigs is human hair sewn on a soft cap with clips and adjustable straps on the back, a comfort-stretch fabric headband around of 360°for a secure fit. They are crafted, fitted and styled with unparalleled skill and attention to detail, every step of the way. No lace no glue. You can just throw it on your head & go in seconds. Look glowing and gorgeous at the gym; sweet and stylish at the store; or polished and practical at the park with this classically comfortable style.
Fuhsi Headband Wigs Details
Lightweight, comfortable, and realistic looking, headband wigs are ideal for women who aren't comfortable with a full wig, but still want the look of hair. They can also be worn by women who have hair as a half wig by pushing it further back on the head to create the appearance of wearing a headband. The lycra headband is fashioned in classic black, but you can wear your own unique headband or scarf over the headband to add variety to your look...
A BONUS Package Includes:
Exquisite Gift Box: Made from high-quality ultra-durable construction, it provides plenty of space for your ribbons, tools, cosmetics, jewelry, toiletries, coins, etc. 
Gorgeous Headband: Available in a variety of colors to perfectly match your hair.
Fancy Necklace: Great gifts for yourself or friends. 
Scented Soap Flower: Perfect as a decor, or for bathing and hands washing.
Easy-to-Use Wig Cap: Tightly hold your hair in place.
FEATURES:
Brazilian Human Hair - Hair you can style just like would your own hair.
Attached Black Headband - Perfect compliment to any athleisure outfit and beyond with moisture wicking performance and secure fit.
Adjustable Elastic Band - Allows the headband to fit all head sizes and ages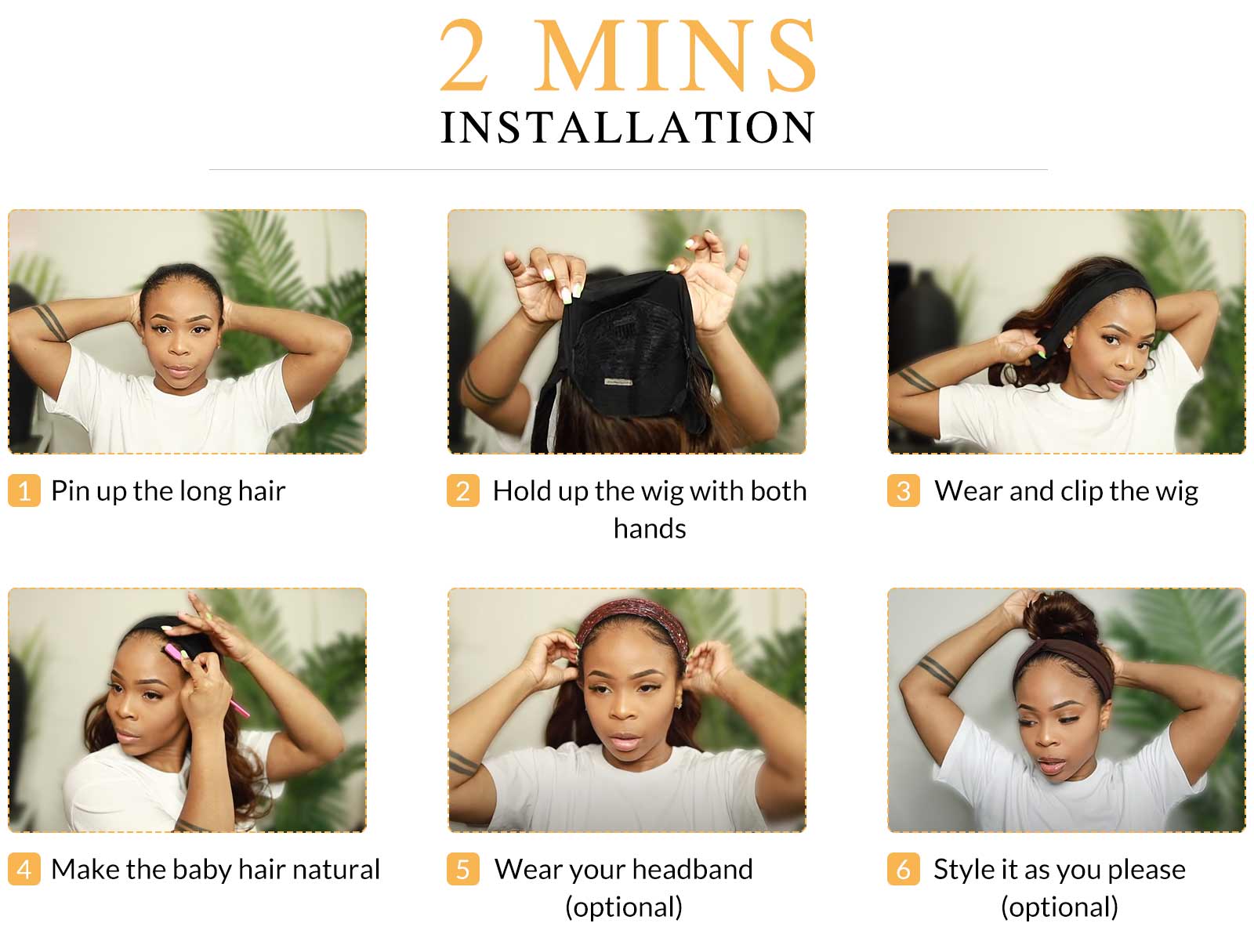 15-day Warranty: In the event that you have issues with your wig, we will give you a full refund within 15 days of purchase. Please ensure that the wig product is returned in origional package with lace uncut.

180 Days Warranty Plus

: At Fuhsi, customer satisfaction is our top priority. In addition to a generous 15-day standard warranty, Fuhsi is making it even more attractive by adding an extended warranty coverage of 180 days that costs only $29.99. It adds peace of mind and protection for a total of 180 days. For any quality problem, please exchange it for the same item within 180 days from the date of your order. You could contact us via email at service@fuhsiwigs.com.
Important Note: Single purchase for single use on single item only. 
Free for standard shipping, fast delivery only need 3-5 business day in USA, others country need 2-7 business days
Tips to wash your synthetic wigs
Preparing to Wash Your Wig
(1)A basin or sink full of cold water
(2)Shampoo and conditioner specifically for synthetic wigs
(3)A wig comb
(4)A clean towel
(5)A wig stand
Step 1:
Work Out Tangles. Use a wig comb to gently work out any tangles.
Step 2:
Mix cool water with wig shampoo in a sink or basin (never use a washing machine). Soak your wig for five minutes, or a little longer depending on how soiled it is. Even if your wig is quite soiled, never rub, twist or wring it.
Step 3:
Rinse the synthetic hair wigs in mild water towards to the same direction.
Step 4:
Run your fingers through the hair gently in the mild conditioning water in a downward from top to end.
Step 5:
Lay flat the hair and leave it natural air dry.

Wig Storage
1. The best way is to put the wigs on a wig stand or mannequin head. Also, you can store it in a hair net or plastic zip-lock bag.
2. Please note that wigs should be placed in cool & dry air.
US
3-5 days usually for stand shipping.
2 days for expedited shipping.

Other areas:
7-9 days usually for stand shipping.

3-5 days for expedited shipping.
Strand Free shipping for New Arrivals Wigs
30 DAY GUARANTEE: If you are not completely thrilled with your wigs - We have a 30 day satisfaction guarantee. Please refer to our return policy here or at the bottom of the page for more details. Happy Shopping!